Plastic Parts
Selected Plastic Parts for building Antennas
End Caps
Metric End Caps
Imperial End Caps
---
• Metric End Caps
| | | | | | |
| --- | --- | --- | --- | --- | --- |
| Art. # | | Description | Stock | | Price |
End Cap 15 x 15
Lamellar plug for 15 x 15 mm square tubes
PE black
€ 0.20
End Cap 20 x 20
Lamellar plug for 20 x 20 mm square tubes
PE black
€ 0.25
End Cap 25 x 25
Lamellar plug for 25 x 25 mm square tubes
PE black
€ 0.30
• Imperial End Caps
| | | | | | |
| --- | --- | --- | --- | --- | --- |
| Art. # | | Description | Stock | | Price |
End Cap 1 x 1
Lamellar plug for 1 x 1 inch square tubes
PE black
€ 0.35
---
Prices incl. legal VAT. plus shipping costs
---
• Hydraulic Tube Clamps
Hydraulic Clamp 12-10
• clamps 12 mm tube
• to be fastened with 10 mm bolts or screws
• dim: 54 x 29 x (2 x 15) mm, distance between bolt holes 33 mm
Note: this is a flat version of what most know as element holders, with large holes for fastening,
I use them for mounting VHF dipoles on a base plate. I would not recommend these for elements.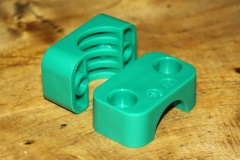 Hydraulic Clamp 25-6
• clamps 25 mm tube
• to be fastened with 6 mm bolts or screws
• dim: 48 x 28 x (2 x 17.5) mm, distance between bolt holes 33 mm
Note: Fits for example 25 mm round Yagi booms to fasten alternative dipoles on.
| | | | | | |
| --- | --- | --- | --- | --- | --- |
| Art. # | | Description | Stock | | Price |
Hdr. Clamp 12-10 PPgn
Hydraulic clamp, 12 mm tubes, 10 mm bolts
PP green
€ 1.90
Hdr. Clamp 25-6 PPgn
Hydraulic clamp, 25 mm tubes, 6 mm bolts
PP green
€ 2.30
---
Prices incl. legal VAT. plus shipping costs
---