.......

Performance Data and Geometry


Pattern and VSWR


Download as File


YBN 4m-5m Yagi with straight split dipole



This little Yagi has a high F/B and altogether very little back lobe volume
The design is a blueprint of the 5 ele. 144 MHz BC measurement Yagi with 50 ohms at feed point for direct feed.
With no high segmentation correction or complex radiators involved this design is pretty much a straight forward
simple building yet performing antenna. For stacking examples, patterns and data see the website of the
YBN 2-5m see here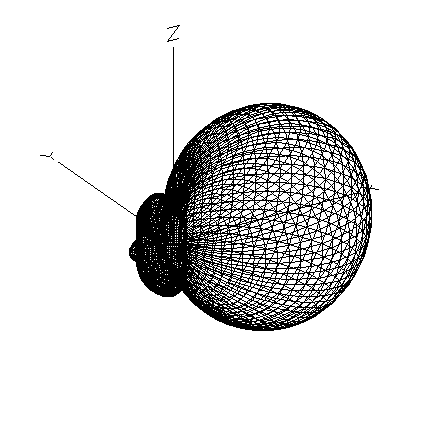 ---
YBN 4m-5m build by Andreas, DK2CF
This Yagi is build on a boom 25 x 25 mm.
Andreas reports a VSWR of 1:1.13 at 71.01 MHz without final trimm.

Photo Credit: DK2CF, tnx Andreas!


---
Performance Data

Gain vs. isotr. Rad.  10.2 dBi
Gain vs. Dipole        8.0 dBD
-3 dB E-plane         54.8 deg.
-3 dB H-plane         73.2 deg.
F/B                  -25.2 dB
F/R                  -23.3 dB
Impedance               50 ohms
Mechan. Length        3055 mm
Electr. Length        0.72 λ

Stacking Dist. h-pol.
top-to-bottom         3.58 m = 11.8 ft
side-by-side          4.64 m = 15.2 ft

Geometry

No SBC needed since designed with auto segmentated wires at designated frequency => Free Space Geometry ready to apply a BC according planned style of building

The Drivers diameter is 16 mm



		Refl	 DE  	  D1	 D2	  D3
Pos.		   0	 582	 829	1691	3055
Ele.     	2118	2044	1966	1914	1766
Diam.             12      16      12      12      12

---

Pattern and VSWR Plots

Elevation and Azimuth plot at 70.15 MHz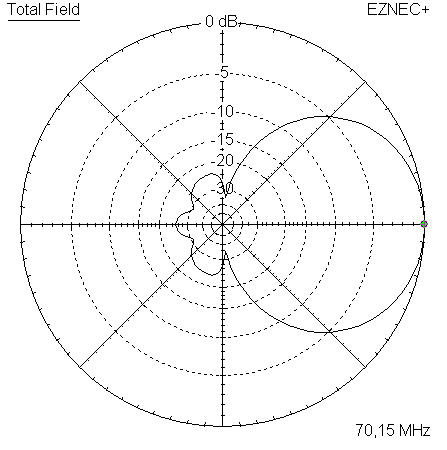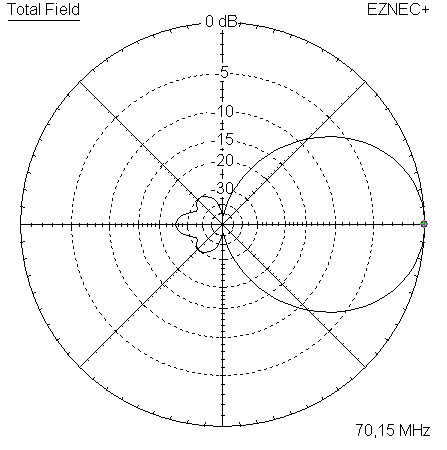 RL and SWR plot - simulated
---

Downloads

EZNEC file of this Yagi (12 mm ele.)


---



73, Hartmut, DG7YBN