Performance Data and Geometry

Pattern and VSWR

Download as File

Stacking
YBN 50-9m Yagi with Straight Dipole
EME + SSB modest bandwidth version ... strictly G/T breeding with a straight dipole
This Yagi is a twin to the GTV 2-9m designed for those who yield to avoid producing and trimming a bent dipole. With rearranged driver cell this Yagi's performance is only a fraction away from the GTV version by means of losing just a marginal bit on the backlobes: F/B and F/R are down by approximately 1.5 dB compared to the GTV 2-9m.
This medium length Yagi is balanced between gain and Antenna Temperature. Design date of issue: 2019.02.25
---
YBN 50-9m built by Gustavo, CE4WJK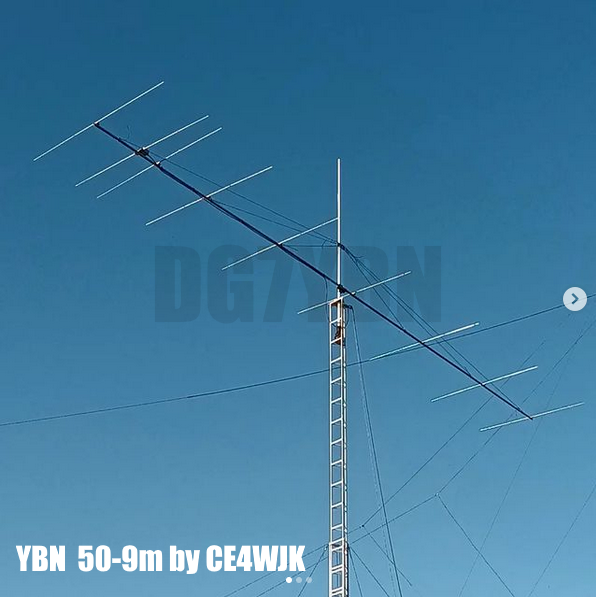 ---
Current Profile
Performance Data

Gain vs. isotr. Rad.  14.0 dBi
Gain vs. Dipole       11.8 dBD
-3 dB E-plane         38.4 deg.
-3 dB H-plane         42.8 deg.
F/B                  -26.2 dB
F/R                  -24.5 dB
Impedance               50 ohms
VSWR Band Width     1.12:1 *
Mechan. Length       12907 mm
Electr. Length        2.16 λ

Stacking Dist. h-pol.
top-to-bottom         8.19 m
side-by-side          9.09 m

*) as in VE7BQH G/T table = at 50.30 MHz

---
Geometry
This design has been viewed how often after the first built has been published in Mar. 2019?

---
Pattern and VSWR Plots
Current distribution Elevation and Azimuth plot at 50.1 MHz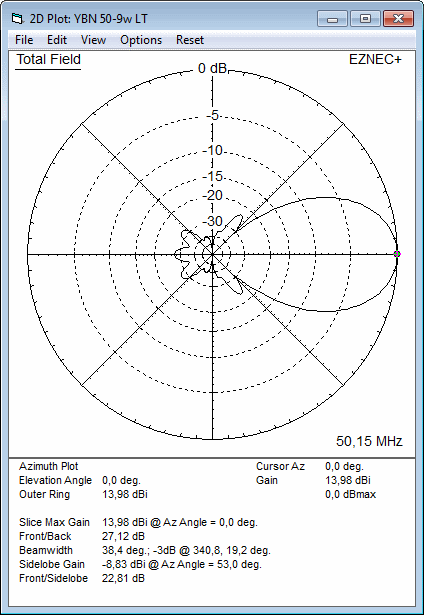 RL and SWR plot - simulated
---
Stacking

Stacking Dist.    DL6WU Formula
H-plane               8.19 m = 26.88 ft
E-plane               9.09 m = 29.82 ft


---
73, Hartmut, DG7YBN