Performance Data and Geometry

Pattern and VSWR

Download as File

Stacking
YBN 50-5wrc vs with Straight Dipole
Wideband version 50.0 - 50.7 MHz with VSWR > 1:1.1 with high F/B and
overall relatively clean rear pattern ... with a straight dipole.
This Yagi is a compact size 5 element 20 ohms native impedance Yagi that is adapted to 50 ohms using a hairpin match.
This medium length Yagi is balanced between gain and Antenna Temperature. Date of design issue: 2022.04.25.
---
YBN 50-5wrc vs built by Karel, OK2ZI at use on DXpedition TN8K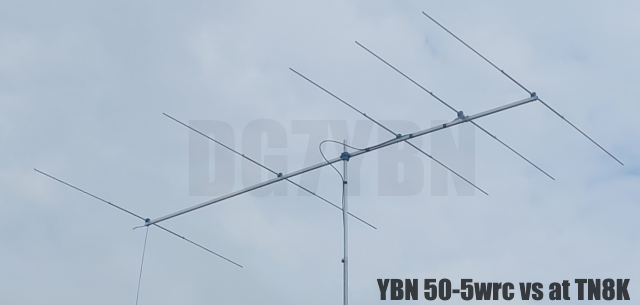 Karel reports:
"Antennas are working very well. 10m is a real gangbuster. Many thanks for your help again."
---
Current Profile
Performance Data

Gain vs. isotr. Rad. 10.36 dBi with Average Gaiun Correction = 10.35 dBi
Gain vs. Dipole       8.21 dBD
-3 dB E-plane         52.2 deg.
-3 dB H-plane         67.6 deg.
F/B                  -30.8 / -35.1 dB
F/R                  -16.5 dB
Impedance               50 ohms with hairpin match
VSWR Band Width     1.07:1 *
Mechan. Length        4070 mm incl. 2 x 60 mm offset
Electr. Length        0.66 λ

Stacking Dist. h-pol.
top-to-bottom         5.36 m
side-by-side          6.80 m

*) as in VE7BQH G/T table = at 50.30 MHz

---
Geometry
Flight pack DXpedition taper version
, no element nor boom section longer than 1.40 m:


---
Table 1: YBN 50-5wrc vs, 15 mm elements on a 25 x 25 mm boom:
---
"Ready to saw and drill" data for mounting elements on boom with standard insulators. BC according DG7YBN:
Boom shape: square
Boom dim: 25 x 25 mm

Note:
This includes a "Segmentation Density Correction" (SBC) of 1.17 mm

---
This design has been viewed how often after the first built has been published in Jan. 2023?

---
Pattern and VSWR Plots
Current distribution Elevation and Azimuth plot at 50.15 MHz (gain is subject to AVG correction)
RL and SWR plot - simulated
---
Stacking

Stacking Dist.    DL6WU Formula
H-plane               5.373 m = 17.63 ft
E-plane               6.794 m = 22.29 ft


4 bay stack at 100 percent distances according DL6WU (gain is subject to AVG correction)
---
73, Hartmut, DG7YBN