.......

Performance Data and Geometry


Pattern and VSWR


Download as File


with Folded Dipole new


Crossyagi - xpol configuration


Stacking


GTV 2-10 LT Yagi with bent Driven Element

EME + SSB Low Temperature Version

This Yagi has quite a low Antenna Temperature and a moderate gain for its length, which altogether is leading to a
good G/T number. It may serve as a contest stack or medium size EME 4-Yagi-Bay, especially under tough RXing
conditions.The bent DE (K6STI style) transforms to 50 ohms at feed point for direct feed.

Find details on this Yagi in
• xpol configuration including SM5BSZ BC element cutting table
• with bent folded dipole
further down.

A GTV 2-10LT built by DL2VL


Chasing the famous and slightly longer EF0210LT by YU7EF .... . Using DL6WU formula derived stacking distances
the GTV 2-10 produces just 2.9 K higher Antenna Temperature but better G/T and F/R. When "under stacked" at
only 95 % of DL6WU distances it produces a lower T_ant and still better G/T, see table below:
(Note: this is not the official VE7BQH G/T table; the GTV2-10 is not listed in there yet)


GTV 2-10LT built by DL2VL and gifted to DL8VL on his 60ths birthday, we're wishing 'Good DX Old Man!'

DL2VL reports best VSWR ie. Return Loss was more towards 144.2 before he shorted the Driven Element a little too far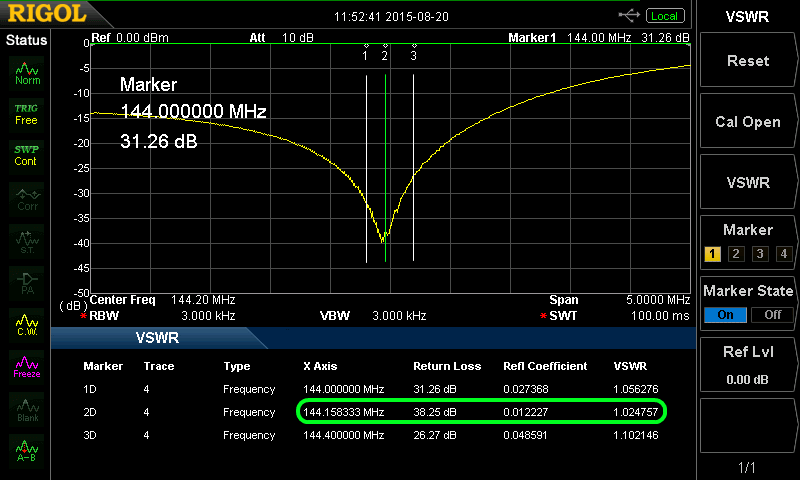 Performance Data

                     Elem. 4 mm     Elem. 8 mm

Gain vs. isotr. Rad.  14.4 dBi       14.5 dBi
Gain vs. Dipole       12.3 dBD       12.3 dBD
-3 dB H-plane         36.4 deg.      36.2 deg.
-3 dB E-plane         40.0 deg.      40.0 deg.
F/B                  -30.1 dB       -30.1 dB
F/R                  -26.3 dB       -26.5 dB
Impedance               50 ohms        =
Mechan. Length        5064 mm          =
Electr. Length        2.44 λ           =

Stacking Dist. h-pol.
top-to-bottom         3.04 m
side-by-side          3.35 m

Geometry

        Pos.    Full Length    Full Length     incl. BC
                 Free Space     Free Space   on 20x20 Boom
				              
Refl.     0       1029.0         1024.0         1030.2
DE(b)   254      100-498        100-498        100-501.1
DE(a)   285       0-100          0-100          0-100
D1      420       970.0          955.0          961.2
D2      680       963.0          948.0          954.2
D3     1171       941.0          922.0          928.2
D4     1817       926.0          906.0          912.2
D5     2610       910.0          889.0          895.2
D6     3430       901.0          878.0          884.2
D7     4269       884.0          860.0          866.2
D8     5064       864.0          838.0          844.2

                ele. 4 mm      ele. 8 mm      ele. 8 mm

4 mm elements insulated through boom BC:
Use DJ9BV BC numbers and nylon rivets on square boom as shown on BC-page
PLUS added Segmentation BC of +2.3 mm as below
				
On Boom BC:				
SegmentationBC = +2.3 mm
BaseBC (20x20) = +3.9 mm
Total          = +6.2 mm


Note: element lengths for Ø 8 mm fit 5/16" too

The Drivers diameter is 10 mm for all examples.
Use EZNEC's Auto-Segmentation at 380 MHz.

Sketch of Driver Cell




• Bent DE Online Calculator web app

---

Pattern and VSWR Plots

Elevation and Azimuth plot at 144.1 MHz

RL and SWR plot - simulated
---

Downloads

EZNEC file of this Yagi with 8 mm elem.




EZNEC file of this Yagi with 4 mm elem.




EZNEC file of this Yagi with 4 mm elem. and Folded Dipole


---

200 ohms version with Folded Dipole

Right when I introduced the GT Yagi series I have shown that its possible to swap straight split dipoles with folded dipoles
for any bent Driver Yagi (s. '144/432 MHz Long Yagis with a bent Driven Element' Dubus 1/2013 & Dubus Technik XII).
The bent dipole delivers 50 ohms as straigth dipole and 200 ohms in its folded form; just as with any non-bent dipole.
Use a λ/2 balun as with any other folded dipole, see here



Here is the GTV 2-10LT using a Folded Dipole that is close to DJ9BV BVO 2 m Yagis Version:
Outer straight Length = 990 mm, inner height = 50 mm, tubes Ø = 8 x 1 mm.

Attention:

Using a complete DJ9BV Folded Dipole with balun cut using v-factor only will not work out ending
up at 144.3 MHz but around 143.9 MHz. At least the half wave balun must be measured & cut to act as a quarter wave
stub while testing on half frequency of the foreseen i.e. 72.2 MHz for the 2 m band.



This build needs some adaption of D1 and maybe refined length of the Folded Dipole.
Making it a build for the experienced maker that has a VNA.

Bent tips rearbound by 30 mm, each a 100 mm from mid of boom on ... and insert.


D1 might be a little long, if Yagi is at 144.00 MHz or below pse shorten D1 by 2 ... 3 mm



---


Cross Yagi / X-Pol

on boom 25 x 25 mm with elements through boom

Simulated DE offset of 16 mm for mounting a straight split DE below or on top of the 25 mm boom in a narrow plastic case
Elements are of diameter 4 mm, so the DJ9BV nylon rivet methode can be uses to mount elements insulated through boom.

on boom offset: second (vertical plane) = 550 mm




Element table for building with the advanced SM5BSZ BC applied on 25 x 25 x 2.5 mm boom, 6 mm holes in boom for nylon rivets.
Offset on both ends is 30 mm


Element table for building with the advanced SM5BSZ BC applied on 20 x 20 x 2.0 mm boom, 6 mm holes in boom for nylon rivets.
Offset on both ends is 30 mm


Mounting elements with funiture hole plugs from the Do-It-Yourself market (LDPE). Drill holes of 3.9 mm for 4 mm elements.
This will also work with thicker diameters as 5, 6 or 8 mm. But BC and element lengths needs to be adapted via my MS Excel
Yagi Element Configuration Tool, see here
Performance Data, single (horiz.) polarisation)

Gain vs. isotr. Rad.  14.42 dBi
Gain vs. Dipole       12.3 dBD
-3 dB H-plane         40.0 deg.
-3 dB E-plane         36.2 deg.
F/B                  -30.0 dB
F/R                  -25.3 dB
Impedance               50 ohms
VSWR Band Width     1.34:1 *
Mechan. Length        5614 mm

Stacking Dist.
top-to-bottom         3.19 m
side-by-side          3.19 m

*) as in VE7BQH G/T table = at 145.00 MHz

| | | |
| --- | --- | --- |
| Pattern plot, hor. pol. only | SWR plane 1 | and SWR plane 2 |
| | | |
---
Stacking

Stacking Dist.    DL6WU Formula
H-plane               3.35 m
E-plane               3.04 m



Data of 2 Yagi stack using DL6WU stacking distances

an "urban" low noise solution: two times GTV2-10LT vertically polarised;
just a 3 m aluminum rod and a Yaesu G5500 azim./elev.-rotor combination or similar will do for digital EME


Gain vs. isotr. Rad.  17.4 dBi
Gain vs. Dipole       15.3 dBD
F/B                  -31.3 dB
F/R                  -28.5 dB
T_ant                219.5 K*
G/T                  -6.02 dB*

Theoretical numbers, no phasing line losses
nor imperfections caused by H-frame included
*) T_sky = 200 K, T_earth = 1000 K as in VE7BQH G/T table


Elevation and azimuth plot and data of 4 Yagi bay using DL6WU stacking distances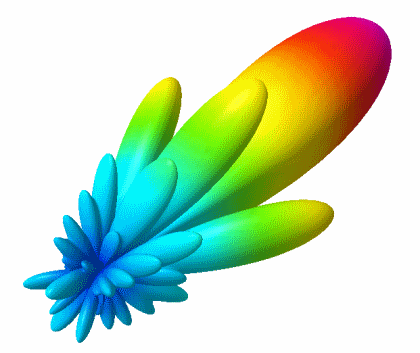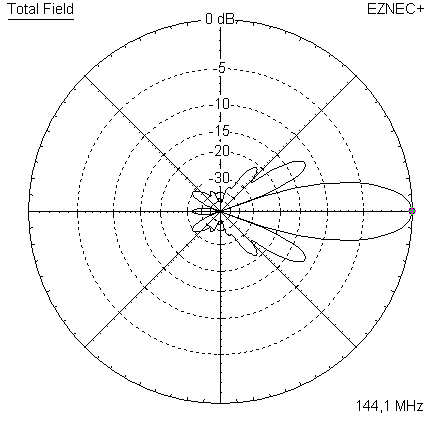 Gain vs. isotr. Rad.  20.4 dBi
Gain vs. Dipole       18.2 dBD
-3 dB H-plane         16.2 deg.
-3 dB E-plane,        18.0 deg.
F/B                  -32.6 dB
F/R                  -29.7 dB
T_ant                227.7 K*
G/T                  -3.18 dB*

Theoretical numbers, no phasing line losses
nor imperfections caused by H-frame included
*) T_sky = 200 K, T_earth = 1000 K as in VE7BQH G/T table



---


73, Hartmut, DG7YBN